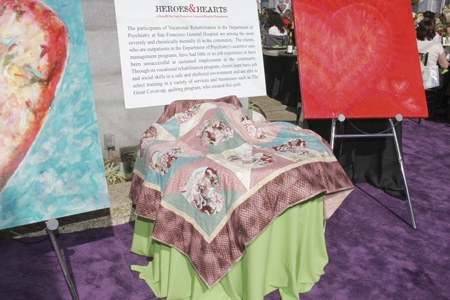 The quilt auctioned at the Heroes & Hearts luncheon was made from richly colored Asian fabrics with the heart theme to celebrate Valentine's Day and Lunar New Year.
http://www.sfghf.net/programs/quilting_business_article.html
y any measure, last February's Heroes & Hearts luncheon was a success. Some 750 people were in attendance, including San Francisco's top luminaries. The gala event raised over 1 million dollars.
Several unsung heroes were both benefactors and beneficiaries of the event. Patients in the Department of Psychiatry's Vocational Rehabilitation Program crafted an exquisite quilt, which sold at the luncheon's auction for $2,500.
The quilting program is one of several that provides vocational skills and training to psychiatric outpatients at SF General. Run as a business, the program enables clients to explore their creativity, provide input into marketing strategies, learn bookkeeping skills and more.
"The sense of pride that the quilting program instills is just amazing," says Amelia Truman, Vocational Program Director. "This business is giving them a sense of possibilities and changing their outlook on life."
The quilting program began about 10 years ago, with just a couple of clients making baby quilts. Now upwards of 30 clients make baby quilts, lap quilts and full-size quilts. Some are made by individuals, others by groups.
"We encourage clients to find patterns they like and choose what they want to make," says Truman. "We try to make sure they're not doing something too difficult for their level of ability. But we do want them to be challenged."
Truman and Vocational Program coordinator Gigi Lapuz run the program and serve as its review board, working with mental health and traumatic brain injury clients.
Through the Prevocational Program, clients take on jobs, operating a flower business, selling coffee, running a clothing cart, and providing other valuable services to the hospital.
"Many of the people we see are impoverished and marginalized. They try to make it through the system, but often there is no validation of their strength," explains Truman.
"Gaining skills and working in a business environment stabilizes the clients and gives them a whole new sense of self. We have business meetings where they are the staff, talking about growing the business," she adds.
Learning to quilt and participating in the business has transformed one woman who recently joined the program.
"She came in and hardly talked to anyone. Then she picked up a quilting pattern and made something on her own," says Truman. "As she got more feedback, she started talking more and became more outgoing. She's found her creative passion. Now she keeps making quilts.
"It's great for us that she's making all the quilts, but it's doing so much for her. She engages in conversation with her peers, and participates in staff meetings," Truman adds. "Our business is parallel to any employment situation. Components like responsibility and accountability are embraced here.
"It means so much to see the spark in our clients. They've been beaten down so much in their lives," Truman concludes. "Now they have something of their own."